TOUR NOTES: August, 2013
BUFFALO, NY
Playing the sidewalk in front of Spiral Scratch and then crashing CASINO SCHOOL'S rehearsal. The indescribably delicious smell of the General Mills factory cranking out Lucky Charms late at night. Allison's soothing hand blended herbal tea with honey. Doing pushups on the front lawn of the National Guard Armory while the grunts looked on.
CLEVELAND, OH
Watching the silent version of Ben Hur while waiting for the show to start. Being mighty pleased by JOHNS. Impressing the chicks with my black sequined jacket. MISTER CALIFORNIA'S endless supply of songs about animal genitalia.
CUYAHOGA FALLS, OH
Being amazed by the photography of my pal Shel Jane Gberg, who I showed with at Studio 2091. Her photos have soul. Basking in the radiance of Amy Mothersbaugh, undisputed Queen Of Galleries. Hosting my first proper gallery opening and discussing my photography with total strangers.
KENT, OH
Getting to share the stage with the BIZARROS, which was a true honor. Having my tape recorder knocked out of commission by the wild gyrations of ANDY POWDER AND THE DRIPS (it was worth it).
GRAYLING, MI
Driving through Adrian, where GG Allin did his first serious jail time. Getting my first speeding ticket in 20 years in the wilds of the Northern Peninsula. I never guessed they had cops up there. Plowing through the stacks of loose 45s at Trust Falls Records and finding a few nuggets. Marveling at the Trust Falls flyer collection. Catching a couple hours of sleep in the local park and then using the internet at the local library. Go local!
BAY CITY, MI
Spaghetti dinner at 5:00, Bible study at 7:00, gig at 9:00.Study topic: The Book of James and how it relates to social justice and punk rock. Playing with DESIRING DEAD FLESH, featuring Adam (age 12) and Rayvn (age 10). They rocked! Adam being nonplussed that more people knew the lyrics to "Born This Way" than to "Minor Threat". Making the scene at Electric Kitsch where I scored DEVOs Hardcore Volume 2 on double LP and talked about 8 tracks at length with Jordan, owner of said fine establishment. Adding Michigan to the list of states I've run in and whose soil I've soaked with my sweat.
LANSING, MI
Meeting Heather at Record Lounge. She and her shop rule. Meeting Jon at Round Flat Records. A Bunnybrains fan from way back! Being shown around by transplanted Trashie Samskee Deltaco. Finding a Phil Ochs biography Ive been long searching for. Playing skee ball and air hockey at the local arcade. Watching turtles and ducks sunning themselves on logs in the Grand River.
YPSILANTI, MI (day 1)
Playing at Cafe Ollie. Mark, the owner, played at Trash American Style back in the 1990s and returned the favor by hosting me. His vegan BLT rules. Taking a side trip to Ann Arbor and offending all the sensitive liberals with my selection of GG Allin, Antiseen, and Ultrabunny records.
YPSILANTI, MI (day 2)
Being impressed by Alexis Ford, who runs a tight ship at her shows! Pigging out on veggie dogs at the gig. Having a million laughs with the Ypsi Skins, who dragged me to an open mic after the gig. They continued their drinking, while I had a cup of tea and then played a short set. Even the normal people liked it. Roadieing for the music festival that Alexis organized. Reading about Sneep frogs and digging the huge fish in the Huron River. Chowing down on more veggie dogs and pop.
JACKSON, MI
Being a silver clad straight edge vegan and feeling right at home amongst the drunk punx. Those people party all night and rocknroll everyday. Marveling at the cache of old beer (vintage 1990s) that one of the drunx bought at a yard sale. Wondering if he and his friends were actually going to drink it. Visiting the birthplace of the Republican Party and living to tell the tale.
COLUMBUS, OH
Playing vintage electromechanical pinball and talking shop with Brett at Spoonful Records. Buying a set of three vintage VW hubcaps and pigging out on veggie dogs at the punk rock flea market. Being shown around town and talking DEVO with Tom Chiki, the most stylish man in Columbus. Playing an interactive set at a guerilla show by the river, powered by a generator. Impressed that several passing joggers and cyclists seemed to like it.
PITTSBURGH, PA
Nabbing a delicious vegan BLT at the coffee shop downstairs from Mind Cure Records (where I found a nice handful of 7"ers). Shopping at the local health food co- op and seeing products other than the standard Whole Foods fare. Having the most raucous singalong of the whole tour. It was during "Presidential People Suck" and the Left totally shouted down the Right! Getting a visual sucker punch while exiting the I- 670 tunnel and entering the city. I won't describe it to you. You have to see it yourself.
RANDOM NOTES
-The Christians are tied with the drunx as far as being the best dancers.
-I played the new Grant Hart album almost every day. Its called "The Argument" and it's a masterpiece!
-Once again, I was pleased by the abundance of record stores in our great land.
-It doesn't matter how lousy you think your town is. If you have friends, bands, and a scene, you're ahead of the game.
THANK YOU to everyone who fed me, housed me, and/ or showed me around. Yall are the best.
Ohio tour diary
itinerary:
7/27/12: Pat's In The Flats, Cleveland, OH with BOY IN LOVE, KILL THE HIPPIES, NUTSCREAMER, LES TRES SPACE BEEFS, and TUK PEENERSEN AND THE WEINERMEN.
7/28/12: Stone Tavern, Kent, OH with DUTCH BABIES, KILL THE HIPPIES, and MR. CALIFORNIA
7/29/12: Bourbon Street, Columbus, OH with RAW NERVES, STRIPMINE, and GAMMA WORLD
7/30/12: Acoustix Cafe, Akron, OH open mic night
-Where to begin? At the beginning, I suppose. Dodging calamitous downpours and construction zones on I-80 West. Arriving in Cleveland just in time for another cloud buster that had water gushing across the streets of the Flats.
-The singalongs were robust every night, but the award goes to Columbus for best lung power.The 60 year old barfly who sang "THEY ALL SUCK" in beautiful contralto harmony really put it over the top.
-The best dancers were in Kent. When I say "dance", Kent cuts a rug.
-One of my favorite Cleveland landmarks is the huge flame that perennially erupts from a tall, mysterious chimney- like structure by the highway. Apparently, the flame does not burn in Cleveland anymore. Maybe it got rained out? At any rate, for the first time I noticed the three skyscrapers that dominate the Cleveland skyline. Kinda cool.
-Plenty of drunk punx in Kent, many of them sporting GG Allin patches. A spontaneous rendition of "Drink, Fight, And Fuck" made me a few new friends.
-Every single band I shared the stage with was excellent. Special mentions to KILL THE HIPPIES (old people who rile up the younguns), DUTCH BABIES (with my pal Jeff, the hardest working man in Ohio showbiz). MR. CALIFORNIA (hilarious as always), GAMMA WORLD (putting a little testosterone in darkwave), and TUK PEENERSEN (discordant as all get out). STRIPMINES and RAW NERVES played hardcore just the way I like it. Champions, all.
-There isn't much better than rolling into town and finding a raw vegan spread waiting to be eaten! Such was the case in Columbus, thanks to Mr. Kevin Failure, who is a success in my book.
-I had loose plans to play in Buffalo, NY, but they fell through. Rather than take a night off, I played an open mic night in Akron. The crowd were very normal and adult, but they still dug my aggressive acoustic stylings. It was fun.
-SAPP BROTHERS TRUCK STOP COLE SLAW! I need say no more.
-The old abandoned Stuckey's in Corsica, PA still stands. Many of the trademark blue tiles have blown off of the roof, but you can still tell its a Stuckey's.
-What is gone is Goodyear's World Of Rubber Museum. Once the gem of downtown Akron, the World Of Rubber stands forlorn and vacant. I really wanted to get one of their famous "Statue Of Liberty With Goodyear Blimp In Background" posters but that is no longer possible. Oh well..
-Square Records in Akron is one of my favorites.
-A big fat THANK YOUSE to: Lynnette, James T., Kevin (for booking) and Rev. Toth (for hospitality). Once again, Ohio was worth the 9 hour drive and I cant wait to get back out there. I'm thinking in January with ULTRABUNNY. Notice has been served!
-Meanwhile, I'm recording a new album. Doing it fresh off of tour makes it easier.
Live at Pat's In The Flats 7/27/12. Photo by Shel Jane Greenberg.
INTO THE FRYING PAN (or: 4 gigs in one day in the hottest city on Earth)
My pal Michel Rae Driscoll hepped me to this event in NYC called Make Music New York. For one day (the first day of summer) the city grants permits to anyone who wants to play music outdoors in any public space. All you have to do is sign up with the MMNY organization, tell you where you want to play, and they secure the permits. It sounded pretty cool to me, so I swung into action.
I wanted to play in the East Village, which has my home away from home ever since I first visited there in 1985. I requested the small square in front of St. Marks Church (where Patti Smith and Lenny Kaye made their performing debut in 1971) and got it. Michel and I would play back to back sets.
Next I asked my fellow noisemaker Jason "Poingly" Glastettner if he wanted to put an event together and he secured the Word Up Bookstore in Washington Heights. We decided that I'd play a set, Michel would play a set, and so would my fabulous band Ultrabunny.
A bit later, Michel informed me that Phillip Glass had put out a call for singers to perform the debut of his new work. That would take place in Times Square. That sounded like fun so we added it to the list.
Four gigs in one day. Thats the kind of schedule I like.
June 21, the first day of summer, dawned hot and sticky with record heat in the forecast. The city is consistently hotter than the country and it was already pretty hot in the country when I set out at 10:30 to pick up Michel and head to the city.
We made it there with relatively few hassles (keeping in mind that it is ALWAYS a hassle to drive into NYC during the day) and made our way to St. Marks Church. We were delighted to see a nice stage set up under a big ol' canopy with plenty of folding chairs in front and a full sized PA. A band was playing and a bunch of people were watching. A prestige gig! I found the person in charge and introduced myself. She didn't know who the hell I was.
Long story short: there was lack of communication and/ or effort on behalf of MMNY and the space was not reserved for us (even though both Michel and I were listed as registered participants). Someone else had the space, they werent giving it up, and we were out of luck*.
But dang it, I was in town to play 4 gigs in one day and I didn't want to ruin my average. So we trekked over to Tompkins Square Park for a little busking. We found a nice shady park bench and got down to the business of playing. Our best audience members were a couple of drunks who wanted me to play some Bon Jovi tune. I had to admit that I wasnt skilled enough to play anything by Bon Jovi so Michel and the drunks got together for a rousing acapella version.
After Michel sold a cigarette to one of the bums for 35 cents (he offered to pay) we walked to my favorite deli for some chow. I was pleased to introduce Michel to vegan dumplings and she liked them! She liked them! Hey, Michel!
But I digress. The distance from the East Village to Washington Heights is about 11 miles as the crow flies. As the car drives, its about a one hour trip. Yes, one hour to cover 11 miles. Only in New York City, kids! I won't go into details about streets that dead end without warning, parks that you have to drive blocks out of your way to circumvent, and block after block of one way streets going the same direction when theyre suppose to alternate**. Lets just say that it was a long, hot sticky drive. How hot was it? It was so hot that the grapes I was eating were HOT. Like they'd been microwaved for a minute. That hot.
By the time we got to Word Up, I felt like I'D been microwaved for a minute. And then placed in a steamer. We were running late, so both Michel and I had to cut our sets short. I was pissed!
My natural tempo is fast. When I play solo acoustic shows, I willfully slow myself down so that the songs are more intelligible and user friendly. Not so this day! I was determined to play a full 12 song set so I threw restraint to the steaming hot pavement and bashed everything out at my natural speed. I bailed on "Words Of Advice To My Ex" (I forgot how to play it) but otherwise did a complete 30 minute set in 20 minutes. It felt good! Nice and cathartic, like punk rock should be.
I should mention that Washington Heights is a primarily a working class Puerto Rican/ Dominican neighborhood. Gentrification is starting to creep in, but Whitey hasnt taken over just yet. There is mucho ritmo y sabor in the air and I'll admit that I was a bit uneasy about how I'd go over with the locals. Think about it... a scrawny, aged, Anglo punker flailing away on a sidewalk in the barrio? Maybe not such a good idea.
But it was great. The passersby dug what I did. My new composition "Hail Satan" in particular was a crowd pleaser. The speed and rhythm of the tunes connected with the crowd. Big shoutout to my homies from the Brass City who were working on the truck!
While Michel was doing her thing***, Ultrabunny were setting up. Once again, I was somewhat doubtful. Maybe I could get away with solo acoustic punk in the hood, but Ultrabunny is fairly extreme. (If you don't know how extreme, go to www.ultrabunny.com and examine the evidence. Then try to picture that kind of presentation outdoors on a sidewalk in a working class Puerto Rican neighborhood.) How would we go over? We'd soon know....
After some freestyling from one of the local rappers, it was our turn. Time was once again limited, so we just chucked it straight into the deep end. We made no pretense of melody or song structure. Our drummer Jan laid down a rockin' beat and I attacked my bass with drumsticks and ran the resultant racket through a wah- wah and two distortion pedals. Bob made whatever hideous noises he makes on guitar**** and it all fit in.
Once again, the people of the neighborhood loved it! We had a nice crowd after a few minutes and I've never seen so many cell phones pointed at me. People were dancing, grooving, and getting into it. Folks were smiling and little kids were digging the sounds of Ultrabunny. One of them even gave me $4.
After playing "Squirrel Attack" and "Free Bunny" (the only two regular songs we have) we went straight back into pure noise. Jan ended everything by kicking all of his drums over. That got a BIG pop from the crowd. A Two different people said (and I quote) "finally some good music in the neighborhood!"
It was an excellent show. I hope some of those cell phone videos get posted.
On to gig #4. Phillip Glass called for all singers- skilled and unskilled- to sing in the debut of his piece. Michel and I each qualified so off we went. After more torturous nightmare navigation of the overheated streets of NYC (75 minutes to cover less ground than wed covered earlier) we got to Times Square and joined the performance in progress. It was soon clear that Michel and I were both in over our heads (I don't think there was a single unskilled singer present) but we got in a few good licks in and enjoyed some beautiful choral singing.
Afterward, we went touristy for a while (it was Times Square, afer all) and drove back home to Connecticut. The further we got away from New York, the cooler, fresher, and cleaner the air became. It was a nice way to end a mega sort of rock day.
*The woman in charge of the event there was one of those lifelong New Yorkers who has been irreparably warped by permanent residence in that city. Combative, on edge, short of temper, and ready to go to war over any trivial bit of nonsense that might rub her the wrong way. Another good reason not to live your entire life in NYC, as far as I'm concerned.
** Looks like I did go into detail, sorry.
*** She's very good. You should check her out.
**** I've been playing with the guy for 24 years and I STILL dont know what he does. But I do know that he makes some of the most extreme sounds ever heard coming from a guitar.
Ultrabunny in Washington Heights, NY 6/21/12. Photo by Poingly.
A list of random impressions from my solo dates in the South, January 2012.
THE ITINERARY
THU 1/5: Fredericksburg, VA @ Horseshoes + Hand Grenades.
FRI 1/6: High Point, NC @ JR's Corner Saloon.
SAT 1/7: early: North Charleston, SC @ The Mill,
SAT 1/7: late: North Charleston, SC @ birthday party for Toothless The Punk
SUN 1/8: Orlando, FL @ Peacock Room
TUE 1/10: Lake Worth, FL @ Propaganda.
WED 1/11: Fort Lauderdale @ Poor House.
THU 1/12: Miami, FL @ Churchill's
FRI 1/13: Sarasota @ Pastimes Pub
SAT 1/14: Gainesville, FL @ Lunchbox
MON 1/16: Asheville, NC @ Static Age Records.
TUE 1/17: Raleigh, NC @ Axe Manor
WED 1/18: Carrboro, NC at Ladybird Basement
THU 1/19: Alexandria, VA @ CD Cellar
FRI 1/20: Philadelphia, PA @ The Mansion
I WAS HONORED AND PLEASED TO SHARE THE STAGE WITH:
Tony Scott, The Parlor Soldiers, The (Soft) Slippery Slopes, Asbestos, Sean A, Xela, Charlene Everst, Kenny Millions, O.T.I., Rat Bastard, Jump Salty, John Q. Public, Chris Head, Blood Summer, Ghetto Bird, Dustin Tise, Dwight Hawkins, Ben Davis And The Jets, Ashes Vs. Leaves, My Nation Underground, Warshack, and VFW. CHAMPIONS, ALL.
BEST MEALS OF TOUR
-Fredericksburg: falafel seasoned with hookah smoke courtesy of Trash customer Tony.
-High Point: home fries made by Coy.
-North Charleston: hummus and fresh cucumbers courtesy of Trash customer Pat.
-Orlando: yellow Thai tofu curry with Brian, who I've known for a very long time. He also makes a killer smoothie.
-SoFla: sitting at the table with Jill, Rich, Anna, and Julia.
-Gainesville: you would not believe what Tate Clair whipped up from scratch for me at The Lunchbox, which is his restaurant. Cuban style tofu tacos with sour orange juice, fresh radish salad, and leftover pizza crust. Yum!
-Somewhere in Northern Florida: fresh picked oranges from an old school souvenir stand.
-Atlanta: hash browns + biscuit at Waffle House with my old friend Bill.
-Asheville: a good ol' fashioned vegan potluck courtesy of Lucky Jr.
-Raleigh: hash browns, grits, + biscuit at Waffle House with my friends Michael and Tabitha.
-Alexandria: tater tots covered in veggie chili with Broken Talent alumnus Ivan.
-Philadelphia: almond butter, honey, and bananas on Turkish bread with my buddy Donna.
MEAL MISCELLANY
-Biggest missed opportunity: chance to relive the Stuckey's dining experience at an AUTHENTIC Stuckey's (blue roof and all) somewhere on the road from Asheville to Raleigh. Not enough time to stop.
-Biggest meal mistake: eating Waffle House food twice in three days.
BEST THRIFT SHOP SCORES:
"Roaches" by Harmon Bethea on 45
"Old Man Atom" by Sons Of The Pioneers on 78
"Rappin', Dancin', and Laughin'" and "Blowfly's Party" by Blowfly on 8 track (!)
COOLEST TOURISTY SIGHTS + DOINGS
-Stonewall Jackson's entrenchments in Fredericksburg
-Tallulah Gorge (deepest canyon East of the Mississippi) in Georgia
-monument to the fallen Confederates in Raleigh
-making stretched pennies with a Frank Zappa (!) design at a rest stop in Maryland
-shopping for gator heads at the old citrus + souvenir stand in Northern Florida
-home made roadside rockets in Georgia
-a genuine Stuckey's! O, I wish I'd had the time to stop.
BEST ROADS
-Highway 17 to Savannah (2 lane blacktop in the dead of night. Total isolation.)
-Florida Turnpike (miles and miles of Florida nothingness)
-I 895 from Stone Mountain, GA to NC (plenty of small town sightseeing)
-US 27 from Miami to Okeechobee (cane fields, the levee on the lake, huge power line
towers, air boat rides, Clewiston, isolation, etc etc etc)
WORST ROADS
-US 1 out of Raleigh (sprawl sprawl sprawl)
-I 95 just about anywhere
SPECTACULAR SUNSETS
-Rock Hill, SC
-Palm Beach County, FL
Live in Lake Worth, FL 1/10/12. Photo by Karen Wideen.
A list of random impressions from my solo dates in the South, August 2011.

-while driving in the Blue Ridge Mountains of Virginia, the sun was shining on me and the mountain faces in front of me, but the entire sky behind the mountains was charcoal grey. The contrast between the illuminated mountainsides and the dark sky was breathtaking.

-I hadn't seen kudzu in many a year, but I saw plenty of it immediately after crossing VA/ NC border on I- 64.

-food highlights: veggie burger on English muffin with fresh cut sweet potato fries (Blue Moon Diner, Charlottesville, VA), vegan bbq beef and meatballs (The Remedy, Raleigh, NC), and giant sized tofu burrito (Cosmic Enchiladas (?), Chapel Hill, NC). That's what I call road food.

-food honorable mention: LIVERMUSH. While staying with the Young brothers in Lenoir NC, BBQ Young fried up plenty of livermush for the guests who wanted any. I respectfully declined, but I'm told I made a mistake because Lenoir sits comfortably in the livermush capital region of the world. I hereby promise that if I ever break vegan edge, it will be with a fried livermush and cheese sandwich as made by BBQ Young.

-I can add NC and VA to the list of states I've jogged in.

-while jogging in Lenoir, I noticed that the local plant life was different from the plant life in Connecticut. Even the patterns of the grass growing in the fields were different. In Smithfield, NC I jogged through huge fields of soybeans on long stretches of road with no cars present.

-my band ULTRABUNNY has played Ohio a number of times. The road to Ohio is Interstate 80, which stretches across the length of Pennsylvania. It's a 300 mile trip on 80 and for almost the entire duration of it, you can see grafitti that reads "Trust Jesus" on the support columns of almost every underpass along the way. The grafitti has been there for more than 10 years and some of it's starting to fade, but it's still mostly there. Imagine my surprise when I was driving south on I- 64 and saw the exact same "Trust Jesus" grafitti on the underpass columns all through Virginia! Same handwriting, placement, and color. I've driven all over this great land of ours, and I've only seen the "Trust Jesus" in Pennsylvania and Virginia. I would love to know the story behind that.

-Smithfield has the highest number of bail bondsmen in one town I've ever seen. Plus a public monument that says "Rise Above".

-while avoiding a traffic jam on I- 64, I took a brief detour through downtown Richmond. It reminded me of how much I love that city. If I have my druthers, on the next tour I will spend more time there.

-Hickory, NC was a great gig. The people there totally got what I was doing and I made many new friends. Will I play there again? YES.

-In Fayetteville I made friends with Richie Maxwell. He booked the show at the Black Cat. Richie gets the job done and has already been a great help in booking my return trip to NC.

-Sharing the stage with the almighty ANTiSEEN for 2 nights in a row was a rock and roll dream come true. I've enjoyed the live ANTiSEEN experience many times since 1984. They have never once let me down. And I was very happy to debut my version of "Animals, Eat 'Em" in front of them on their home turf. Respect!

-I headed South right before the weekend of Hurricane Irene and right after the Virginia earthquake. People told me I was nuts to go; that I'd either be swallowed up or washed away. Well, the ground was stable in VA and we got a little rain in NC. While that was happening, New England felt the tremors and got hammered by the hurricane. How's that for irony?

-in Chapel Hill, I tossed a medicine ball with my old friend Rob. Have you ever played catch with a basketball that weighs 25 pounds? I assure you that there's nothing quite like it.

-if you are ever in Lenoir and want to do some record shopping, be sure to stop by Repo Depot. It's owned by the Young brothers, Joe and BBQ. Look for the shack that's covered with records on the outside. I scored an AXE album and the best record of my whole trip: a generic dimestore single by the Jalopy Five doing a terrible version of the Beach Boys'"Fun Fun Fun". Anyone who knows me or has heard my radio show (every Tuesday at 2:00 on www.wnhu.net) knows that I thrive on terible records like that!

-In Carrboro, the record shop to hit is All Day Records. It's staffed by very friendly people and I nabbed a pile of neat old R + B 78's, including a couple by The Clovers. The Clovers blow me away. On 45 I got "Welfare Cheese" by Emmanuel Lasky, "The Ten Commandments Of Man" by Nickie Lee, and "Is It Because I'm Black" by Syl Johnson. Those records are so greasy you have to be careful with matches when you're near them.

-Dustin Tise and Ira Rogers are my main men in Raleigh. I loved playing the Axe Manor and meeting its many denizens. They tolerated me playing for almost 90 minutes and in my book, that's pretty cool!

-most surreal moment: chilling at Young Manor in Lenoir after the show in Hickory, yakking with Jeff Clayton. Suddenly the self inflicted wound from his stage performance spontaneously opens and sends blood dripping down his face. He had a paper towel at the ready and didn't lose a single word of the conversation.

-Summation: good playing, good friends, new friends, new bands, good food, and seeing the States Of America (United and Confederate) from the driver's seat. What's not to love? North Carolina: I WILL BE BACK. In January.
ULTRABUNNY TOUR DIARY, JULY 2011

Ultrabunny played Ohio in January of 2011; the dead of winter. We thought it would be interesting to play Ohio in July; the height of summer. So, after I strapped the gas tank of the Bunnymobile (AKA my 1995 Saturn wagon) to the undercarriage with a bungee cord (it had been blown off in NYC when I ran over an inflated basketball which exploded), we all piled in, pointed our noses West, and took off. Neither torrential rain nor the desire to camp out at the Sapp Brothers truck stop (home of the world's finest hash browns) could stop us. Destination: The Stone Tavern in Kent.

The Stone Tavern is run by a fellow named Lou who took good care of us. Lou was helpful in every way, from supplying free drinks for all (including myself, who doesn't consume alcohol. He made me a glass of fresh squeezed lemon lime juice), to running sound on his night off, to being generally genial. Hats off to Lou.

When you're in a band traveling to an unknown town, you never know what awaits you there. There are standard questions that run through your mind:

-Will anyone attend the show?
-If so, will they pay attention to you?
-If so, will they like you?

It's always a gas to hit the stage and find the answer to be YES to all of the above. Kent loved Ultrabunny! There was dancing and merriment all around as we blasted our way through our set. Since we're 100% improv, we rely a lot on audience feedback to shape our rock and roll magic. Kent gave us plenty of feedback and we certainly fed back. The feeling was satisfying. Ultrabunny love Kent!

On the bill with us were MILK + COOKIES, and VILLAGE BICYCLE. VILLAGE BICYCLE reminded me of Opal/ Kendra Smith but without the opiates or the L.A. smogginess. I hope they record something soon so I can spin it on my radio show.

After playing, we met many cool people, sold a lot of merch (including the last copies of our "Thrill Of It All" hand lathed 7"), and hung out all night. Big shoutout to Jimi Imij, who had his video camera rolling, and to my new pal Squeaky who definitely showed me how to have a good time in Kent!

The next day for me was pretty mellow. While Chris and Bobby looked for thrift stores in Akron, I slept late and bummed around until they returned. Then we all hopped into the Bunnymobile and drove north to Cleveland.

On our way to My Mind's Eye Records, Ultrabunny shared a special band moment. The three of us let out a collective "WHOA" as our unified band eye spotted a large office building being demolished. I pulled over immediately and we all sprang from the vehicle, cameras in hands. We ran all over that street in downtown Cleveland snapping furiously while the locals caused a major traffic jam trying to get to the Indians game.

The Happy Dog is located in one of those neighborhoods that is becoming gentrified rapidly, but still maintains plenty of ghetto air. There's a grocery store next to the club. The big "impulse buy" item at the checkout: $1 pregnancy tests. Boxes of them.

At the Happy Dog, I was pleased to see my friend Jeff Hardy, he late of CD Truth and currently of about 16 other bands, including Zero Defex, Missle Toe, and Dead Federation. The Happy Dog is renowned for its hot dogs, tater tots, and fries. I ordered a plate of fries with homemade catsup and was satisfied for the entire evening.

I thought our set was particularly scorching. I played bass, drums, a cheap portable keyboard, and Chris' guitar, creating a wide range of vile noises. The crowd loved it. We made many new friends and secured several invitations to return. Hello Lisa, Allisun, Michael, Kat, Ryan, and all at the Happy Dog! And Cleveland.... thanks for the grope.

Sharing the stage with us in Clevo were SLOTH, and once again, MILK + COOKIES. MILK + COOKIES had been good the night before in Kent, but tonight in the Mistake By The Lake they were particularly good. Playing a couple nights in a row will do that for a band. (It certainly worked for us.) SLOTH were a ton of fun. Imagine PUSSY GALORE but soft and fuzzy instead of junked out and prickly. They were by far the best looking band, too. Seek out photos; you will not be disappointed.

The next day we went specimen hunting at the Hartville (?) Flea Market, south of Akron. Man, did we see some interesting people. Interesting people in Ohio are way different from interesting people in Connecticut. I can't quantify the diffrences, but they were noticeable. If anyone out there has access to grant money, I'll be happy to undertake some field research and write a paper.

Chris got a cool old "Secret Agent" comic book with a great picture on the front of Patrick McGoohan smoking a fake cigarette. Bobby almost bought an oversized Bratz doll and did buy a vintage Viewmaster. I got a Casio SA 35 keyboard for $2.50! And some grapes.

Then it was back to uptown Akron to do some record shopping (I found a double LP by Deaf School and made sure that Chris bought the Sonny Bono solo album from 1967) and then over to Cuyahoga Falls to loiter at Studio 2091. 2091 is Ultrabunny's official hangout spot in Ohio. Gallery keeper Amy rules the universe. She once got me to pay money for art, and that's no mean feat. Did I mention that Amy and her gallery rule? She does. They do.

While there, our young friends Maddy and Katie (offspring of our genial hosts Becky and Toth, respectively) taught me to hula hoop. Who says you can't teach an old goat new tricks? I got pretty good at it, too.

Then, south to Columbus, where our buddies Meghan and Tom were waiting for us. Meghan says we were the second loudest band she's ever heard. I don't care who the loudest was, because next time we play Columbus, it will be us.

On the bill this night were The Burger Boys and Mr. California. Mr. California was so much fun that we've decided to do a split 7" single with him, whether he wants to or not! Here I must give the durability award for the weekend to Jim Karpinski. Not only did Jim book all of our shows and generally look after us, he played 4 sets in 3 days with 3 different bands. They were all good, too. Now THAT'S durability. Hats off to Jim!

Also there was an older fellow who was an expatriate Connectikite. We met him randomly on the sidewalk before the show. He engaged in animated conversation with all of us and stayed for the whole show. What a trooper.

Bobby went to the convenience store next to the club to get a slice of pizza. What he found looked like someone had eaten a pizza, puked it up onto a fresh crust, and left it under a heat lamp for a few hours. He passed on it, but later in the evening, driven by desperation (as the fries advertised by the club were not being served that night), he went back to buy a slice. There were none left. It reminded me of the George Carlin joke about how somewhere in the world is the worst doctor- and someone has an appointment with him tomorrow!

Driven by near- starvation, Ultrabunny played what might have been the best set of our whole run. For the first song, I ran my new SA 35 through the bass effects rack and it sounded deadly. Chris climbed through a window onto the stage while Bob was playing his unique chords and it was into the stratosphere from there. We were up there for almost 40 minutes and only came down when the oxygen ran out. What a great feeling.

All in all, I rate our sojourn to the State of the Buckeyes a complete success. Thanks to Jim Karpinski for setting the whole thing up and mucho gratitude to Toth Wilder for his unwavering hospitality. A twitch of the bunny ears also to the publishers of "Busted In Cuyahoga County", our new favorite magazine. ULTRABUNNY WILL BE BACK!


Ultrabunny in Columbus, Ohio 7/30/11. Photo by Megan Bourque.
BRIAN WILSON AT THE RIDGEFIELD PLAYHOUSE 6/8/11.
(subtitled: "+/- 500 C.E.O.s with Hawaiian shirts stretched over their paunches shake their flab to the moldy oldies while Brian Wilson sleepwalks and mumbles his way through the first set.")
Sitting next to me is a C.E.O nursing a small plastic up of white wine. This is his big night out. He sings along out of key. He claps along out of tempo. He is excited in a C.E.O. fashion. He's dressed down, sporting khakis and a polo shirt. He smells like shit. I mean, like SHIT. Theres something rotten inside of this guy and its all coming out of him at the Playhouse. He's probably the head of BP. He's driving me nuts.
Sitting on the stage like a sack of potatoes is Brian Wilson. There is no pretense of his playing the piano anymore. He sits behind one, and it is plugged in, but the only time he touches it is to plunk out a couple of notes between songs as a soundcheck. He looks very involved in the process. The piano is barely audible. He reads his lyrics intently from a screen attaced to his piano. He recites the between song banter competently, reading it from the screen. The screen cues his hand motions. His gestures don't always sync up with the words he is singing.
I wonder what's going through his mind when he performs. Is he enjoying himself? Does he want to be on stage? Is he frightened to death? What would he be doing with himself if not this? Whatever that may be, would he be better off doing it? Imponderables, all.
After 63 minutes, the first set ends and its intermission time. I break away from Mr. Shit- Smeared- BP- Bossman and look for a spot in the room thats not as smelly. I succeed. I park myself and breathe deeply for the first time in more than an hour.
Time for the second set: the Gershwin set, as per Brian's new album. He reads the introduction from his little screen and the song begins.
All of a sudden, Brian's voice is clear and strong. He's right there, up front in the mix, and sounding as good as a 69 year old who's been put through the wringer several times can sound. For the first time in the evening, he's putting visble effort into his singing. His range has increased noticeably. He's not mumbling or fudging anymore. His weird hand gestures seem a little more natural. Maybe he's even sitting up a little.
His band, as always, are flawless. Their vocal harmonies are perfect. Several members of the group are multi- instrumentalists, so the sonic texture is always changing. They are tight, yet playful, constantly throwing musical jabs at each other that never interfere with the overall performance. I'll admit to feeling envious as I watched them reel off the intricate harmonies and arrangements, seemingly without effort.
And what arrangements! Whatever Brian Wilson may lack on stage, he still clearly has what it takes in the studio. His versions of the Gershwin songs have a very 'Pet Sounds' take on them. Brian is using the same voicings and arrangements that he did back then and his Gershwin album would have been a logical extension of 'Pet Sounds' had it been recorded and released in 1966. This dude can write the good stuff and his band can play it on stage.
Even the encores of 'Johnny B. Goode' and 'Help Me Rhonda' had some sparkle to them (though I couldnt help but notice that Brian, with much fanfare, was switched to bass guitar for these two songs and he still wasn't playing it for real).
Final analysis: the first set was ridiculous and the second set was sublime. Brian Wilson made a George Gershwin fan out of me.
Saturday, November 27, 2010: The Willimantic Marathon.
What happens when you're booked to play a solo acoustic show with three other bands and two of them cancel? You end up playing for about two hours and having a LOT of fun. If for no other reason than to prove to myself that it really happened, here's the set list from that fateful night:
Idiots' Club/ War On Morons/ Love In The Teens/ Do It Now/ Words Of Advice To Malcolm Tent/ Words Of Advice To My Ex/ Six Pack/ Suburban Relapse/ The Sissy Song/ Build Me A Car/ Let Me Tell You About My Job/ Way Of The World/ Moon Over Marin/ Smoke On The Water/ Free Bird/ Introduction (From "The Last Days Of Pompeii")/ Woton/ Nazi Punks Fuck Off/ Bo Diddley Had A Baby (bongo version)/ Advice From Christmas Past/ Government Flu/ Terminal Preppie/ It Rules To Be Old/ Black Sabbath/ Nicotina/ Peg Leg Peggy/ Dead Babies/ How Many Polish Girls?/ I Polish Girls (And Make Them Shine, Shine, Shine)/ Words Of Advice To A Young Bob Dylan Upon His Gotham Ingress/ Beautiful World/ Hold Your Ground/ Presidential People Suck/ Carbona Not Glue/ Cool Rockin' Homosexual/ Garbage Dump/ Battle Hymn Of The Bomb Again Christians/ Malcolm Tent Has Feelings, Too/ They're Coming To Take Me Away, Ha Ha/ That Martian Jubilee/ Today Your Love, Tomorrow The World/ I Read Too Much
42 songs! I feel like Bob Pollard. Thanks to Joachim, Paula and Donna for egging me on the whole night. It really was a lot of fun.
Tuesday, September 28, 2010: True story.
At the county fair, I watched oxen pull concrete slabs around a corral while I ate a fried onion. The onion was greasy; the moon radiant.
Wednesday, January 27, 2010: What can go wrong? What can go right?
What can go wrong:
-the bass player can lock his keys and all of his gear in his car before the show.
-the bass player's effects pedal can die.
-the bass player's tuner can die.
-the bass player's wah pedal can malfunction.
-the bass player can break an "A" string immediately before show time.
-the kick drum can develop a hole.
-the kick drum pedal can fall apart.
-the substitute kick drum can slide all over the stage during the performance.
-the smoke machine can blow smoke off the back of the stage instead of all over the stage.

What can go right:
-ULTRABUNNY CAN STILL KICK SOME SERIOUS HEINIE ON STAGE! If you were at Bruar Falls in Brooklyn, you know what I mean. Bosco Delrey have our gratitude for making it happen.
AND..... we rocked pretty hard in New Haven as well. Rick Reaction, DJ Donovan, and all in the No Values Crew: THANK YOU.

Monday, January 4, 2010: Ultrabunny and the big chill
It started out as a 12 day tour and ended up as a weekend in Trenton, but Ultrabunny have to rock, so off we went. On the way, however, we had a gig in Brooklyn.

Now, I'm not going to name names or point fingers because I ve heard that the venue we played is actually pretty cool. I'm going to give them the benefit of the doubt and assume that their normal policy is not to freeze the performers to death while leaving nobody in charge of anything. Let's assume that what happened to us on January 2 is the exception and not the rule.

What happened to us was the coldest gig ever, and that ain't cool. I felt like I was living out page 130 of "Get In The Van". I can't speak for anyone else who was playing that night, but my fingers turned alternately numb and painful upon contact with the neck of my bass. Maybe that's why I played so poorly. Or maybe that it was so cold in this place that I never unbundled after coming inside from the single digit wind chill. It was hard to move with all those layers of clothing on. Everybody's breath was visible as they exhaled. It was pretty funny, really.

Le Rug were on before us and they were good. They played many short, spazzed out songs named after U.S. presidents. I'd like to see them one day in a warm club. I bet they'd be hot.

OK. Enough of Brooklyn. Next night was Trenton and that was a lot better. The venue was the Mill Hill Basement and I liked it. It's the basement of an old neighborhood bar in an unglamorous section of Trenton. Atmosphere. Intimacy. History. Heat. The kind of place I like to play.

On the way to Trenton, we Bunnies had a confab and decided that we were going to be good this night no matter what. I think the other bands had similar conversations because right off the bat, the proceedings were a hit.

First up were Colurbuk, from Purchase, NY. Lots of improv and a fair amount of structure. Crazy sounds laced with crazy rhythms. Plenty of gear strewn all over the stage. They had a bit in common with rock + roll, but not too much. A healthy mix, I d say.

Next: Donner Party Picnic, also from Purchase. Any band who plays with total abandon and has a trumpet player is OK by me. They'd better stay together after graduation/ dropping out.

Then we got to play and it was a monster. Ecstatic peace for 45 minutes (anyone who's been in the pocket onstage knows what Moore was talking about when he coined that phrase). Every moment we were playing felt timeless. From where I was standing, it looked good and sounded good. It was the kind of feeling you can t get anywhere else and it was absolutely worth the long drive, the bitter cold, and the ridiculously overpacked (we're talking about band members traveling with equipment on their laps, folks) vehicle to achieve it. Would I do it again? Heck.... 25 years and I ain't stopped yet!

We avoided the dreary Jersey Pike for the drive back, favoring scenic Route 1. I love spotting those beautiful old neon motel signs in the middle of the night. The Pulaski Skyway heading into NYC at 3 in the morning offers a stunning view of the skyline. That's what I call icing on the cake.
Sunday, June 10, 2007: Life after Trash American Style
So, today I went to Danbury to sell records at the Hat City Music Festival. It was a bittersweet occasion. It was the first time I'd been back to town since our landlords screwed us. It was strange to be at the festival without the anchor of the store. I felt like a real itinerant, just coming and going.
I saw many people I knew from the store and that was great. It was really nice to meet up with everybody after being away for more than a month. However, it reminded just how much I miss everyone. I wish I could see you all more often, but my present circumstance won't allow it.
In the 5 weeks since we were forced out, it's been a non- stop circus. Every day I try to make order out of the chaos that my life has become. I'm definitely making progress, but it never seems fast enough. I want to get back to normal NOW. Guess I just have to keep plugging at it.
There are no immediate plans for a new store. Kathy and I thought that we'd be able to chill for the summer and then begin the search for a new space, but it hasn't worked out that way. The last 5 weeks have been anything but chill, just LOTS of work trying to get our stuff sorted out. At the rate we're going, it will be no sooner than the end of summer before we get it all together. After that, it would make no sense to break it all down and move it again.
So, for the meantime, we're going to continue with the fair/ festival/ flea market circuit. I'm also going to be devoting my energies to becoming a rock star/ stand up comedian/ music critic/ photographer/ whatever sort of creative dude. At the age of 42 I don't know how many chances I'll have to attain one of those goals, so I have to try now. Wish me luck. I'm going to need it.
So, even though there won't be a store for a while, Kathy and I are still keeping it going. Maybe you can't come to us, but we'll go to you. We look forward to seeing you at the next music festival or street fair or punk rock show we attend.
And remember, if we can do it, you can do it. As Al Flipside used to say, be more than a witness!
Till next time….
-mt
Brooklyn, December 2008: my program notes for a DEVO themed art exhibit
Devo never gives anything away. Devo have presented the information, but they won't translate the language it's written in. I've spent the last 30 years writing my Devo glossary. Every time I think I've entered the last term, the Five Spudboys draw another glyph on the page and I realize how little I've figured out- musically, artistically, or philosophically. One can study their source code and decipher clues to the Devo tongue, but will anyone outside of Devo Incorporated write the dictionary? Perhaps not, but this spud is going to enjoy trying. Rock on, Devo.
Friday, December 12, 2008: genius and nothing but
"What's great about this country is that America started the tradition where the richest consumers buy essentially the same things as the poorest. You can be watching TV and see Coca Cola, and you know that the President drinks Coca Cola, Liz Taylor drinks Coca Cola, and just think, you can drink Coca Cola, too. A coke is a coke and no amount of money can get you a better coke than the one the bum on the corner is drinking. All the cokes are the same and all the cokes are good. Liz Taylor knows it, the President knows it, the bum knows it, and you know it."
– The Philosophy of Andy Warhol: (From A to B and Back Again), 1975
Friday, March 13, 2009: Zappa said it all.
Information is not knowledge.
Knowledge is not wisdom.
Wisdom is not truth.
Truth is not beauty.
Beauty is not love.
Love is not music.
Music is the best.
Wednesday, April 29, 2009: I review Throbbing Gristle 4/28/09
I was house right.... 10 feet in front of the PA...... alternately bludgeoned and caressed..... watching the hip youth of Brooklyn alternately agonized and ecstatic running to and away from the sound... unable to believe what I was hearing/ feeling/ seeing.... so many people dancing with their fingers in their ears..... waves of people parting as the sound scythed through them.... attracted to the sound and then repelled by the noise.... but all smiling and laughing... inhuman frequencies both high and low.... the one phrase that will always stick with me (because it's true): I WANT THE DISCIPLINE DISCIPLINE DISCIPLINE DISCIPLINE I WANT THE DISCIPLINE.... and Throbbing Gristle gave it to me. Then my car broke down in Yonkers.
Tuesday, May 11, 2010: while walking in New Haven
I crossed paths with the Flower Lady. She's always set up on York Street peddling flowers for a buck each. As I was walking by she started with her usual sales pitch. Then she looked up at me, recoiled a little, and said "Oh no, baby, don't you worry. You're alright". So I didn't have to buy a flower.
Further down the block I passed a dude from the Emerson, Lake and Palmer tribute band who were playing Toad's Place that night. He was on his phone explaining the difference between the real ELP's approach to playing music and the cover band's approach. It sounded very detailed.
Monday, May 24, 2010: me and The Clash
It's 1984.
Fort Lauderdale, Florida. The most boring place on Earth... and the Clash are coming to town! Dude, NOBODY of the Clash's stature plays in Florida. Nobody! This is big news! My friends and I (the only punk rockers in our suburban development) get our tickets immediately. True, it's not the 'real' Clash (no Mick Jones), but hey- a fake Clash is better than no Clash.
A few weeks before the show, a controversy develops. The Clash are playing the Sunrise Music Theatre, a venue which has hosted its fair share of rock shows, but specializes in a more upscale performer. The interior walls of the lobby are decorated with pictures of Frank, Sammy, Englebert... those kind of people. Upscale performers attract an upscale audience- the kind of people who will happily fork over a premium charge for the 'dinner seats'.
The dinner seats are the best seats in the house. Purchase of a dinner seat includes, as you might have guessed, dinner. Probably Chicken McNuggets, but I'm only guessing because I could NEVER afford one of those seats.
As one could guess, this being a Punk Rock show, the punks weren't too happy with this dinner seat jive. A hue and cry was raised and I have a vague memory of a petition going around (don't take my word 100% on that, though).
However it happened, the band heard about our dilemma and intervened with the venue management to make ALL seats available at the same price. I seem to recall that it was a bit of a struggle, but the Sunrise Music Theatre eventually caved in. A victory for the people brought to you by the Clash!
After all that, I thought show was a bit anticlimactic. I'd already made up my mind that the band probably wasn't going to be that good. Certainly not authentic. Also, I'd read that the Clash were one of the loudest bands in the world and I was ready to be pummeled. They opened with 'London Calling' and my immediate impression was of how UNLOUD and distant the band sounded.
The music didn't batter me like I was hoping to be battered. There were TV sets all over the stage showing old film clips of battle scenes and whatnot. There was much tough guy posing from the new kids. Paul was just kind of there. Joe was wearing white pants, a white jacket, and I think a blue Hawaiian shirt. He was sporting his Mohawk and kept holding his head while he sang, as if he had a headache. He grimaced like he had a headache, too. He occasionally played third guitar and my thought at the time was 'Why?''. The sound was murky enough to where his playing was inaudible.
Overall, between my own bias and the poor sound and the weird presentation with all the TV sets and the obvious posing and Joe's apparent pain in the head, I was a bit disappointed by the show. Not disappointed enough to miss a chance to meet the band, though. The people I went to the show with wanted to get backstage.
Not really my scene, but whatever. There was a whole mob of us outside by the backstage door after the concert. We hung out there for a long time and as the evening wore on, the crowd thinned out quite a bit. Finally, after a long long wait, this Rasta dude opened the door and said in a thick Jamaican accent "Do you want to meet the Clash?'' We of course said "YEAH" so he said "Come wit' me" and he led us through the labyrinthine backstage area (where mere mortals are not normally allowed) to the dressing room.... and there they were!
It was pretty weird for a young kid like myself to suddenly be face to face with the people who I'd just seen on stage in a big theatre- especially Joe and Paul. I'd been reading about them and looking at their faces on album covers and in magazines for years and there they were. Just like that. In person and only life- sized.
All of the band members had girls on their arms. Joe had one particularly well known Clash groupie as his entertainment for the night (later I found out that it was through her efforts that the whole dinner seat fiasco was put to rest. Later still I learned that she was a bit more than a mere groupie, but that's another story for another time). The new guys especially seemed to be enjoying their female companionship.
I looked over at Vince White just in time to hear him make a witty remark to one of his chicks. "Oh, I see they're letting longhairs in tonight", referring to my shoulder length hair. I walked over and asked for an autograph, which made him wince a little. Good!
Then I found myself face to face with Paul Simenon. He was very polite. I felt a need to talk to him. This is how it went:
ME: So, uhhh, do you like playing punk or reggae better?
PS: Both.
ME: (silence)
PS: (silence)
ME: Oh.
PS: Excuse me, I have to go.
ME: O.K.!
I wonder how many 'conversations' like that poor old Paul has had to endure in his life.
My friend Big Santo (lead singer of our band BROKEN TALENT) gave Joe a copy of our record, which he graciously accepted. He actually seemed interested in our little 45. I remember his girl looking at me with contempt. I finished getting my autographs and it was time to go home- or so I thought. One of the people I was with (the infamous BRIAN DOUGLAS CLEMONS) found out that the band was staying at a local Holiday Inn and wanted to resume the party there. We drove around for a while trying to find it (against my will) but had no luck, so the night was finally over.
Many years later I finally heard a recording of the gig and it wasn't half bad. The renditions of the oldies were OK but the new songs showed a lot of promise. In fact, this particular tape kindled within me an intense interest in the latter day Clash. I realize now that they were a good band and had a lot to offer- if they had been allowed to. I often ask myself "What if? What if that band had been allowed into the studio to record 'Cut The Crap'?" Clash history could have a happier ending and the latter- day lineup might have gotten a fair shake.
I listen to that tape of the Clash in Fort Lauderdale quite a bit these days. Now I wish I'd been more open minded about that band's capabilities (I also wish the acoustics had been better at the show). I think I would have enjoyed the gig very much. At least now, more than 20 years later, through the wonder of modern technology, I'm able to.

P.S. Though the concert technically took place in Sunrise, Sunrise is merely a subdivision (one of too many) of Fort Lauderdale.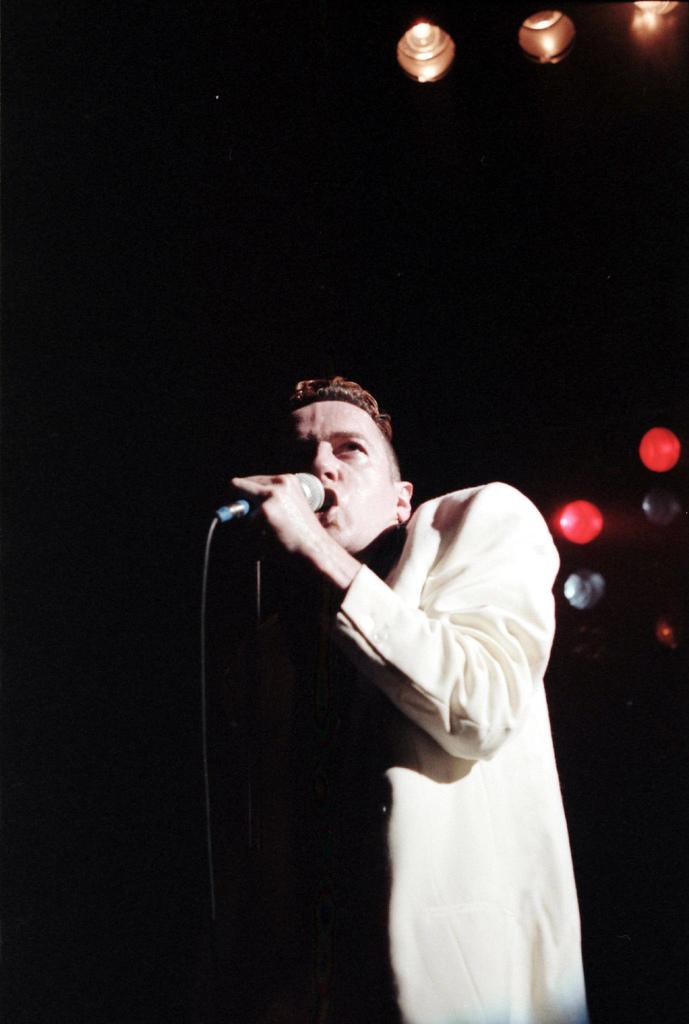 Clash Mach II live in Fort Lauderdale, FL 3/31/84. photo credit: unknown.
Wednesday, September 1, 2010: way out west
Once a year I make a pilgrimage to the state of O- hi- o. What lies there? The DEVOtional, a.k.a. the annual Devo fan fest. It's always a fun drive out to Cleveland (occasionally Akron) and I look forward to it every time.
This year I wanted to make the trip a little more special. Usually I drive straight out and straight back. This time I decided to take mostly byways (rather than highways) and really see what there was to see. Also, I wanted to hit every tag sale, thrift shop, flea market, scenic overlook, and record store in my path.
To this end, I enlisted the aid of my old pal Nancy. Nancy is a punk rock lawyer who shares my love of backwater towns, abandoned buildings, and cheap nick- nacks. We hopped in my trusty '95 Saturn, pointed her West, and let the rubber meet the road.
Driving straight out to Ohio takes about 8 hours. This year, Nancy and I took 3 days. We visited scads of small cities. In Pennsylvania, we absorbed the charms of Scranton, Wilkes- Barre, Bloomsburg, Dubois, Clearfield, Butler, and Jersey Shore. In Ohio, we delighted in discovering Youngstown, Akron, and Cleveland. New York offered us Newburgh and Brewster. Each municipality had an attraction. Akron has a world class art museum and Chrissy Hynde's vegetarian/ vegan restaurant (which was pricey but quite good- be sure to try the sweet and hot broccoli if you're there*). Newburgh sports a lovely riverfront. All the others were chock full of cool old buildings, thrift stores, and coffee shops (very important to Nancy). We missed the underground mushroom farm in Butler, though. Next year!
The DEVOtional itself was smashing fun, as always. I got to hang with my fellow Devo geeks, most of whom I only get to see annually. I played a solo acoustic set at the pre- party and I must say that I rocked the joint (having an audience whos really into it is a big help). All of the other bands were great. Special highlights for me were Poopy Necroponde's Cream Based Soups (who played Devo songs with a horn section) and the Mutant Mountain Boys (bluegrass Devo) The event was held at the Beachland Ballroom, which is a gorgeous old dance hall from the 1940s (or so). Going to the Beachland is like stepping back in time, and I like that.
All in all, our trip demonstrated how much of the good ol' USA there is to see. We could have spent a month checking out the towns, burghs, and boroughs in any one of the states we traveled through. We still probably wouldn't have seen them all.
So, thanks to Devo and my fellow DEVOtees for giving me the incentive to venture out into the world and take a little taste of it. I can't wait till next time.
*update 2013: don't bother. the restaurant is gone.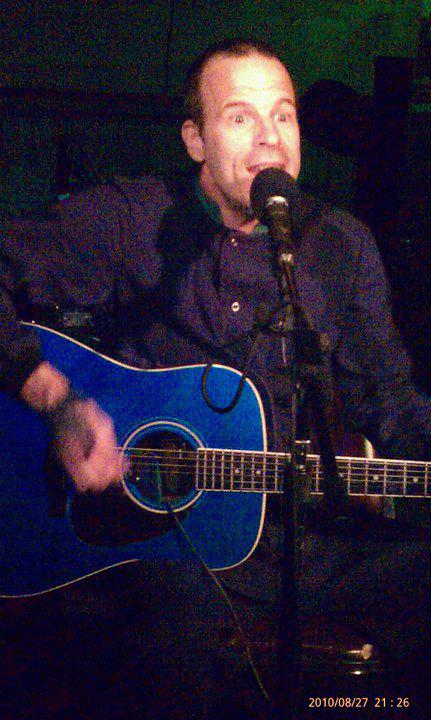 Live at the Beachland Tavern, Cleveland, OH 8/27/10. photo by James T. Quirk.
Copyright © 2010, 2022 TPOS